What Family Members Need to Know
Alcoholism and drug addiction affect the entire family system and similarly, recovery can positively impact the family system also.  Family members quite often play a critical role in supporting their loved ones to seek help and enter treatment.  In fact, it is often the family member or friend who makes the initial call to gather information and explore treatment options.  For this reason, we see our role as helping family members to navigate and understand the treatment and recovery process.  Our commitment is to help individuals and families find the appropriate level of care to address their addiction issues.
Is it true that I need to let my loved one hit "rock bottom" before he/she will consider treatment?
Absolutely not! Perhaps one of the biggest myths that family members have heard and come to believe is that there is nothing that can be done when someone is in active addiction except wait around for him/her to "hit bottom" and suddenly decide to enter treatment.
Family members, friends, employers and other significant others can often have great influence on when a person seeks treatment.  Alcoholics and addicts do not have to lose everything in order to get the help they need.  It is possible to arrest the disease of addiction at any stage, and intervention is most successful when early interventions take place.
The decision to enter treatment is usually made as a result of significant consequences that result from drinking or using.  As family members you can start the process by identifying your own enabling behaviours that might be preventing your loved one from feeling the consequences of his/her addiction.
There are also professionals, called Interventionists, who are trained to work with families to help support their loved ones to choose treatment and recovery.
For a list of interventionists in your area, please contact our admissions office.
Why should I send my addicted loved one all the way to Antigua?
The treatment and recovery experience works best when people feel physically, emotionally, spiritually safe to explore themselves, their addiction and their issues.  Recovery from drug and alcohol addiction is a process and many individuals need to step outside of their own environments in order to truly focus on themselves and their recovery.  We believe our location is a benefit for those seeking recovery as they can address their addiction without distraction.  This means allowing them space away from their work, their friends, their home environments, their dealers etc.
Is Antigua too nice a place for recovery?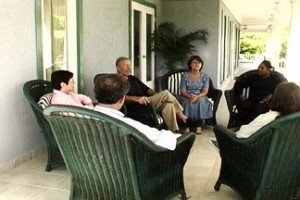 Some family members worry that because their loved one is coming to Antigua that they will somehow be "on vacation" here.  This could not be further from the truth.  We offer a very structured recovery program that is based in the 12-step philosophy.  Our daily program begins with wake up at 6:30 a.m. and ends with the final group at 8:30 p.m.  There are breaks built into the daily schedule, however the program activities are among the most structured in the residential treatment profession.  We manage to do this within the serene backdrop of Antigua which offers serenity and balance for our clients.
More importantly, we invite family members to experience the serenity of Antigua through participation in the education and process groups of the family program.  We find that it is just as beneficial for family members to "get away from it all" as it is for our clients.  Too often family members have been doing it all and holding it all together and only when they come to a place like Antigua do they recognize the extent of their own physical, mental and spiritual, deterioration.  The family week is for many family members, the first self care strategy they have undertaken.
What should I expect after treatment at Crossroads?
Our program emphasizes that recovery from alcoholism and drug addiction is a process and not a destination, so we ensure that every client, regardless of where they are coming from, has a complete continuing care plan at discharge. This plan is formulated through recommendations from our multidisciplinary team of doctors, nurses, clinicians, nutritionist, wellness staff, and spiritual counselor. Our team provides each client with ongoing professional referrals depending on their individual needs. This may include recommendations for: individual therapy, Intensive Outpatient Programs, group therapy, Extended Care placement, Recovery Residence placement, medical and psychiatric referrals, sober companions etc. Continued 12 step participation and sponsorship is always recommended as part of the continuing care plan.
For those requiring continuing care through a Recovery Residence, Crossroads operates a facility called The Sanctuary in Delray Beach, Florida. This warm, caring, structured environment is comprised of separate living compounds for men and women. With multiple amenities close to beaches, shopping, and employment and educational opportunities, this is an ideal setting to serve as a transition following discharge form Crossroads Centre. (See our page on this site devoted to Recovery Residences)
We encourage family involvement in the aftercare planning process and, as long as we have written consent from the client, welcome the opportunity to discuss this with you.