Phases of Residential Care
Phase I
The initial phase involves detoxification. During this phase, clients receive a physical evaluation with lab work, and begin the process of detoxifying their bodies from addictive substances. Our professional medical team, led by our full time internist, supervises the detoxification process and administers any necessary medications for withdrawal according to the needs of the individual client.
Crossroads has a six bed detoxification unit, which is medically staffed 24 hours a day. We can safely detoxify from any substance of abuse.
Our experience tells us that medication management is only one aspect of detoxification. Massage is often utilized in the detoxification stage, and can help flush toxins from the body's muscles and tissues. It can also help ease stiff muscles and aid with anxiety and sleeplessness-all common in the initial phase of treatment.
Hydrotherapy may also be encouraged during this stage to provide additional relief during the withdrawal process. Auricular Acupuncture, with a concentration on the five points in the ear, is also known to aid in the detoxification process and help relieve stress. It is offered three times a week.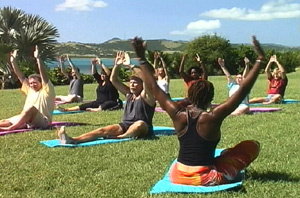 At Crossroads, we implement a "whole person" approach to recovery.
Once a client is medically stabilized, they meet with their Primary Counselor to become acclimated to the program structure and to complete a bio-psycho-social assessment, which forms the basis for preliminary treatment planning.
Phase II
The second phase focuses on the Master Treatment Plan designed by both the Primary Counselor and the client. The Master Treatment Plan is individually tailored and customized to meet the needs of each client. Treatment at this stage is more intensive, as clients begin to address self-destructive patterns of behavior. At this stage, the healing process involves exploring underlying issues and personal barriers to progress in recovery.
Phase III
The third phase focuses on discharge and continuing care planning. All clients are assisted in formulating a comprehensive continuing care plan based on their individual needs, and as recommended by the clinical team. The carefully selected referrals may include, but are not limited to: Extended Care, or Transitional Living options, Intensive Outpatient Programming, and Individual Therapy with clinicians experienced in working with the specific needs of the individual client. Daily self-care, such as 12-step recovery group participation, meditation, and journaling, is also strongly recommended.
Staying Connected After Discharge
Our contact with those who have been clients at Crossroads Centre does not end once treatment has been completed. We ask that clients allow us to continue to monitor and support their progress in recovery, whatever their location. Our full-time alumni staff makes contact regularly to check in and, when needed, provide additional support to assist our alumni with their sobriety goals. Recovery from addiction is an ongoing process and we strive to provide continued assistance to the many clients and families whom we have had the honour to serve.
Alumni involvement is yet another way we stay in touch with former clients. Alumni are encouraged to make submissions to our Island Sun Newsletter, participate in regional and international alumni events, and offer support to newly discharged clients. Whenever possible, and with the written consent of both parties, we will provide alumni contacts to clients before leaving treatment. We have established Alumni Chapter Groups in several international locales.
Start Your Journey to a Healthier Life 1-888-452-0091