"I truly can't begin to thank you for the light years of progress you gave me during my 2 days with you. It was astonishing how laser focused everything you did was on all the areas I struggle so much with. And the way you explained things opened my eyes and made things sink in like never before."
Join Us for Our Upcoming Workshops:
Workshops are limited to 10 people
March 29 - 30, 2019
From Codependency to Healthy Boundaries
One of the most painful issues for women and men is the struggle for healthy intimacy. Out of abandonment fear and desperation, many of us do anything to ensure our safety and in the process lose our dignity and personal power. The lack of healthy boundaries not only leads to diminished sense of self but all too often, abusive conflict. This intensive workshop will empower individuals with tools to alleviate abandonment fear, release resentment and take back their power in their relationships.
Workshop Details
Location
MusiCares
3030 Olympic Blvd.
Santa Monica, CA 90404
Time:
10am – 5pm
Friday and Saturday
Cost:
$365 per person for 2-day workshop
Payment options:
Credit Card
PayPal
About The Workshops:
Those in recovery often need a boost while healing from trauma, relationship issues or other process addictions.
The Rokelle Lerner Workshops, sponsored by Crossroads Centre Antigua, are intensive two-day seminars where individual attention is given to each participant.
These workshops are not just a "rehashing" of issues. They offer a strong focus on resiliency and creating an action plan for the future that gives individuals a chance to move forward in their growth
Who Is Rokelle Lerner?
Rokelle is the Senior Clinical Advisor for Crossroads Centre Antigua. She is an international consultant and lecturer on addiction, trauma and relationship issues. For the past twenty-one years Rokelle has facilitated Spring Workshops in London, UK.
Ms Lerner has authored many books including: The Object of My Affection is in My Reflection: Coping with Narcissists, Affirmations for Adult Children of Alcoholics, Affirmations for the Inner Child, Living in the Comfort Zone: The Gift of Boundaries in Relationships and Inkspirations: A Coloring Book that Celebrates Recovery.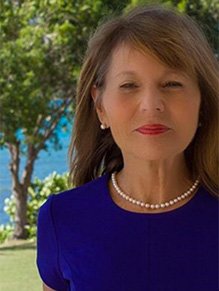 "I came to Rokelle's workshops on the recommendation of my therapist and left with a sense of true freedom and clearing of an issue that has been troubling me for years."