About Antigua
Location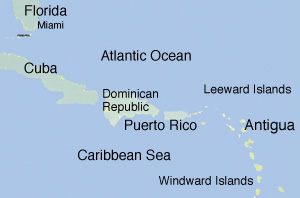 Antigua (pronounced An-tee'ga) and Barbuda are located in the middle of the Leeward Islands in the Eastern Caribbean, roughly 17 degrees north of the equator. To the south are the islands of Montserrat and Guadaloupe, and to the north and west are Nevis, St. Kitts, St. Barts, and St. Martin.
As the largest of the British Leeward Islands, Antigua is an English speaking country approximately 14 miles long and 11 miles wide, with a surface area of 108 square miles. The population of Antigua is roughly 68,000.
Passports & Immigration

United States nationals require proof of citizenship in the form of a valid passport. Canadian and United Kingdom nationals may travel on an original birth certificate and photo ID. If traveling through the U.S., a passport is required. Even if not required, it is always a good idea to have a valid passport for travel.  All persons entering Antigua must have a return or onward ticket in order to gain entry into the country. For additional information about travel originating outside of the U.S., Canada or the United Kingdom, please contact the Antigua and Barbuda Department of Tourism.
Temperature
General temperatures in Antigua range from the upper 70's in the winter months (November to February) to the mid- upper 80's in the summer months. The gentle breeze of the northeast trade winds makes the climate quite comfortable throughout the year.
Highlights
As one of the most popular Caribbean destinations, Antigua is most recognized for its spectacular white sand beaches and boasts having 365 beaches- one for every day of the year. Antigua is also known for its Annual Sailing Week Regatta, the largest international sailing event of the Caribbean, which begins in the last week of April each year.
Time Zone
Atlantic Standard Time, one hour ahead of Eastern Standard Time and the same as Eastern Daylight Time. GMT -4.
Currency/Money
Official currency is the Eastern Caribbean dollar which is fixed to the US dollar. Recent exchange rate was US$1.00=EC$2.65.  We recommend clients bring with them either US or EC currency.
Medical Facilities
There are several general practitioners and specialists on the island, a hospital and a private clinic. No vaccinations are required unless the visitor is arriving from an endemic area. We recommend travelers purchase additional travel health insurance if they have specific health concerns.